Explore the Healthy World of EVOO
Most of us cooks use olive oil every day in some capacity.  But have you ever asked yourself, what are the benefits of extra virgin olive? Most extra virgin olive oil is loaded with health benefits.  Simply put, it's packed with antioxidants and anti-inflammatories.  It's low in cholesterol and has the reputation as a healthy fat.
What does "extra virgin" mean anyway?
EVOO should be flawless.  Standards are set by the International Olive Council in Europe to ensure the highest grade of oil is labeled "extra virgin" and it must meet their strict standards of smell, taste, low levels of acidity and low levels of ultraviolet-light absorption.
Did you know…   there are over 700  kinds of olives in the world which are used to produce thousands of different kinds of olive oils? And, like wine, different olive oils should be paired with what food you plan to prepare.
In Search of…
Seeking out the best olive oil is like finding a perfect wine. For everyday cooking with foods that have distinctive flavors, choose an olive oil that is described as full-bodied, early harvest or robust and choose a milder oil for fish and chicken.  This would be labled "mild" or "late harvest".  And like wine and the grape…olive oils change every year, simply because they are made from freshly harvested olives….like the grape.
What does age have to do with it?
We all know that most wines get better with age…olive oil is just the opposite.  It doesn't…it's perishable. Extra virgin olive oil will deteriorate within months of being produced.
The next time you're shopping and find yourself staring at the shelves of different olive oils, read each label and look for a few things; when it was harvested, from what country it was harvested and what country produced it. And look at the color. The best EVOO will have been harvested and produced in just one or two countries.
Don't…
…purchase big jugs of olive oil with thoughts that you're saving money.  Yea…you're saving a few bucks but  you're not getting what you think you're paying for.  Some outfits actually add canola oil with their standard olive oil to cut corners and boost revenue. Don't believe me? Pour a little in a glass, smell and taste it….more about this later.
Instead…
Purchase a few small bottles of different flavors to use with different foods to see what you prefer. There are olive oil specialty stores that allow tastings of any of the wide variety olive oils they carry. You'll be introduced to garlic infused oils, fruity ones to drizzle on salad greens, citrus oils to be paired with fish… just to name a few. Take advantage of tastings and educate yourself, finding a favorite or three.  Be sure to take advantage of the knowledgeable sales staff that love their craft and love talking about it.
Let's take a closer look.
There are naysayers out there on the web who claim olive oil is not a  healthy fat when looking at study results done with monkeys.  One study fed monounsaturated fat-rich diets high in cholesterol to a test group of monkeys over a 5 year period.  The monkeys developed "extensive atherosclerotic placques in their coronary arteries".
Other studies reveal only marginal health benefits of consuming olive oil. But what standard olive oil were they fed?
Food for thought
Is EVOO better for you than butter? Yes, it is but here are some stats that may surprise you…sure surprised me!  Olive oil is the most caloric dense food out there.  As a comparison, refined sugar has 1,725 calories per pound.  Olive oil has over 4,000 calories per pound…which equates to 120 calories in one tablespoon. Butter has 102.  For me, even if the naysayers are correct, I'm content with the "marginal benefit" of EVOO.  I'm careful to just drizzle a bit and not drown my food.  Besides…it's much more flavorful than butter.

The Upshot…
Eat your fruits, vegetables, omega-3 rich fish and enjoy a little extra virgin olive oil in moderation.  It's all good.
Avoid oils that don't name the exact country of harvest, or where it's produced on the label. In my opinion, the best EVOO comes from one country, is darker green in color and when you taste test it, you'll notice a pepperiness in the back of your throat.  Always purchase extra virgin olive oil. Buy it in dark bottles and store in a cool, dark place protecting it from light to prevent it from becoming rancid.  And most important…purchase just what you'll consume within 60 days. Think about it though, this offers you the opportunity to try different oils….and there are SO many…so enjoy!
Not a fan of olive oil?
There are several different kinds of oils to cook with and it seems more keep cropping up. There are so many options that it can get a bit confusing trying to decide which to use in a recipe.
For example:
Peanut oil is the "go to" for deep frying unless, of course, you have a peanut allergy. It has a light nutty flavor, is perfect for stir-fry recipes and is great in Asian dishes.
Canola oil is an all purpose oil because of its "barely there" flavor.  It's cheaper than olive oil but I wouldn't suggest using it for deep frying, salad dressings or drizzling on your pizza.
Corn oil

is another popular all purpose oil due to its neutral flavor. Its odorless and has a high smoke point (450 degrees F) making it a good oil for frying.

Coconut oil comes in two forms. Refined coconut oil has a mild flavor and higher smoking point (400 degrees F). Unrefined coconut oil has a stronger flavor, subtle sweetness and lower smoking point (350 degrees F). This is a popular oil to use in vegan dessert dishes.
Grapeseed oil has a light, clean flavor that doesn't mask other flavors in your recipe. It's great for salad dressings and is a good substitute if you've run out of olive oil. To keep this oil fresh, keep it refrigerated as it contains polyunsaturated fats and can go rancid quickly.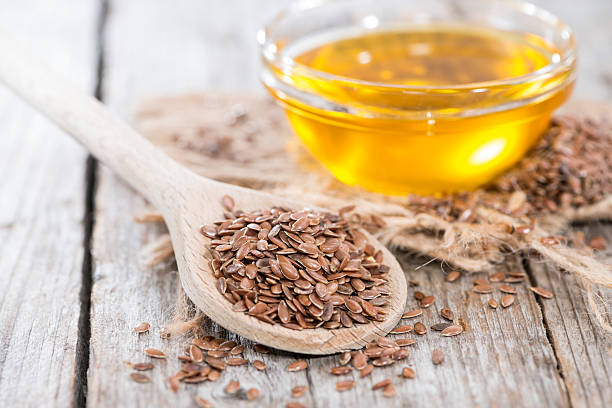 Flaxseed oil is made from ground and pressed flax seeds. It contains 50-60% heart healthy Omega-3 fatty acids. In fact, one tablespoon of flaxseed oil contains 7,196 mg of Omega-3 fatty acids. The health benefits of this natural oil (also known as flax oil or linseed oil) are pretty incredible.

Besides protecting your heart and your brain, it protects against diabetes and reduces the risk of cancer cell growth. Flaxseed oil also reduces the levels of C-reative protein which is a market used to measure inflammation in people who are overweight.



Flaxseed oil is great in salad dressings, sauces and dips. Add a healthy tablespoon to your next smoothie.  Do NOT, however, cook with flaxseed oil! It does not have a high smoking point (225 degrees F) and can form harmful compounds when exposed to high heat.
Did you know… one of the many active compounds in flaxseed oil is fiber which can reduce constipation and diarrhea. It also reduces eczema and by adding flaxseed oil to your diet can actually improve the appearance of cellulite. Seriously.

SAFFLOWER OIL is an oil I choose not to use. While it's odorless, has a neutral flavor and high smoking point, making it great for frying and cooking at high temps, it's one of the few edible oils that does not contain vitamin E. There are other negatives about this oil that bother me. It decreases good cholesterol, is not heart healthy and may trigger allergic reactions. People with a sensitivity to plants like daisies, ragweed and mugwort should stay away from using safflower oil. It also may affect the body's capability to clot blood which could be risky for people on certain blood thinning medications.
So, what's a smoking point you ask?
Basically, it's the temperature at which oil starts to smoke and burn. It then releases harmful chemicals that create a bitter flavor. When you overheat cooking oil, it destroys beneficial compounds and creates harmful free radicals which can damage molecules in your body. For this reason, it's important to pay attention to the smoking point and use oils that have a high smoking point when cooking at high temps. Save the low smoking point oils for unheated foods like salad dressings and vinaigrettes.
In closing…
Now that I've hopefully gotten your culinary juices flowing and your mouth watering for something delicious…find yourself an olive oil specialty store and go taste testing.  It's fun and you'll learn a lot.  Pick up a few small bottles to experiment with and make something amazing today. I'd love to hear what you've tasted and welcome your suggestions for me to try as well.

Skål
Please feel free to leave your thoughts or comments below.  I welcome the feedback.  If you have a special request or question, I'll gladly help you find the answer or recipe you are seeking.